John Fogerty
Blues and Bayous Tour
Mohegan Sun
May 27, 2018
John Fogerty, one of the greats in rock music, was at Mohegan Sun on Memorial Day weekend to both put on a great show and also remind us what Memorial Day is about. The Blues and Bayous Tour features Fogerty and his band and ZZ Top in a killer combo evening.
Fogerty started the night with "Travelin' Band" the band was energetic and immediately engaged the arena full of fans. They then launched into "Hey Tonight." Many Creedence Clearwater Revival songs were performed during the night along with some of Fogerty's solo songs from his 1985 album "Old Man Down the Road."
Fogerty has always been outspoken about on his respect for veterans but his dislike for war. He spoke of how we don't treat our Veterans who complete their service with the honor they deserve before singing "Love and War," a tune he co-wrote last year with country singer Brad Paisley. The song is a reflection of America's treatment of those who serve the country.
A New Orleans medley tribute for the city dear to his heart was performed and he sang Rockin' Sidney's "My Toot Toot," Hank Williams' "Jambalaya" and Gary "U.S." Bond's "New Orleans". This ended with a New Orleans style parade through the audience as Steve Robinson, Ethan Chilton and Nathan Collins on horns played "When the Saints Go Marching In" while flashy purple, green and gold costumed band members strutted though the audience.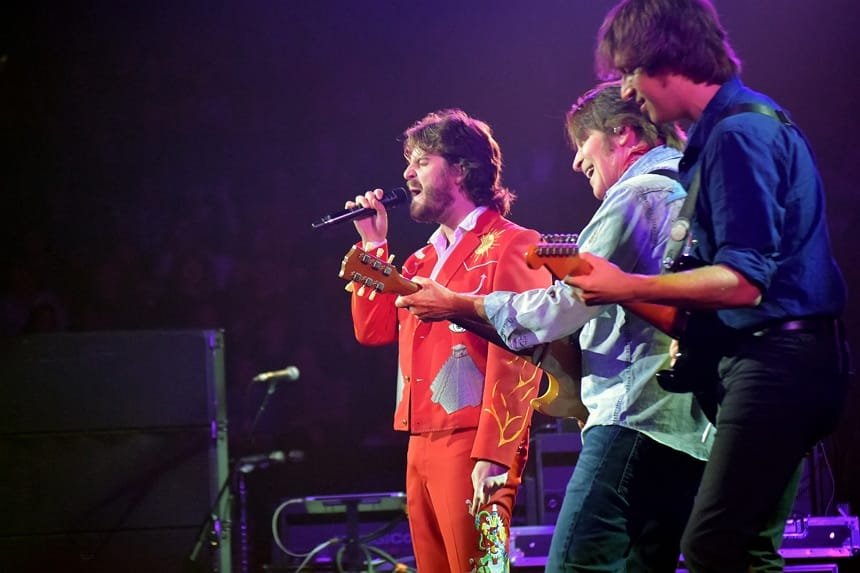 Fogerty's son Shane is in the band and he was joined by Fogerty's other son Tyler for the songs "Good Golly Miss Molly" and "Psycho." Together they also have their own band called "Hardy Har" in the Los Angeles area.
They ended the set with the encore of "Bad Moon Rising" and "Proud Mary."
After the conclusion of Fogerty's set ZZ Top took the stage to finish off the evening. While they were on they celebrated Fogerty's 73rd birthday coming up the following day with a birthday cake complete with lit candles and "Happy Birthday" sung by the band and audience. It was fitting that a man who has spent much of his life on tour  celebrated his birthday onstage during a concert.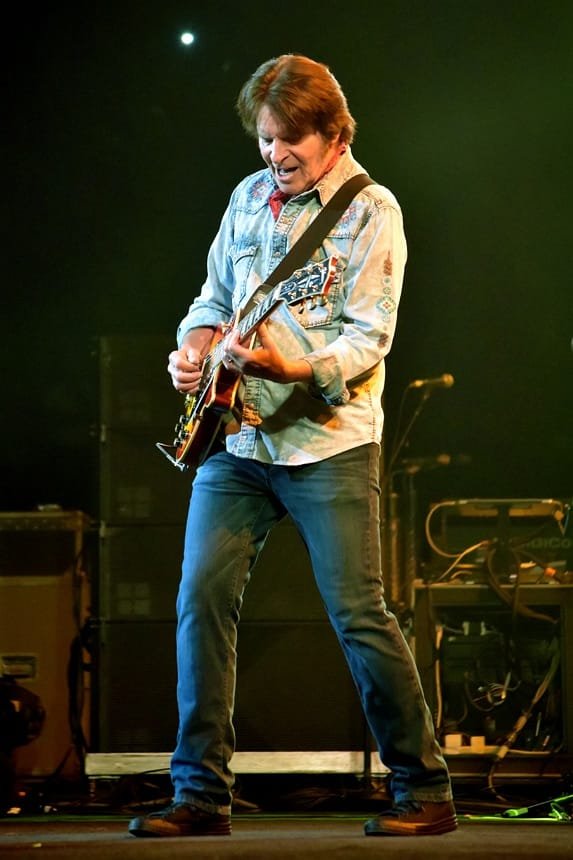 Having seen Fogerty in concert a few times it's always a very enjoyable night and his energy is unwavering. It was a great concert and I would go again.
Review by Donna Erichsen
Setlist:
Travelin' Band (Creedence Clearwater Revival song)
Hey Tonight (CCR song)
Rock and Roll Girls
Who'll Stop the Rain (CCR song)
Good Golly Miss Molly (Little Richard cover) (with Hearty Har)
Psycho (The Sonics cover) (With Hearty Har)
Up Around the Bend (CCR song)
Love and War (Brad Paisley cover)
I Heard It Through the Grapevine (Gladys Knight & The Pips)
Keep On Chooglin' (CCR song)
Born on the Bayou (CCR song)
My Toot Toot (Rockin' Sidney cover)
Jambalaya (On the Bayou) (Hank Williams cover)
New Orleans (Gary "U.S." Bonds cover)(with 'When the Saints Go… more )
Have You Ever Seen the Rain? (CCR song)
Down on the Corner (CCR song)
Centerfield
The Old Man Down the Road
Fortunate Son (CCR song)
Encore:
Bad Moon Rising (CCR song)
Proud Mary (CCR song)