Lady Gaga
Joanne World Tour
Mohegan Sun Arena
Nov. 9, 2017
It was a fantastic performance by Lady Gaga for the sold out crowd at Mohegan Sun Arena. A perfect venue for a top act like this. The center of the arena was all open festival standing. Although midway through the first couple of songs most in the upper sections were on their feet as well. Because as Lady Gaga said "It's a party and what do you do at party? Stand up and dance."
Lady Gaga performed with her band and dancers a combination of songs from her newest release "Joanne" and many of her older hits. She's a pop queen but there is so much more there than just a pop star. Her voice is strong and beautiful and she plays variety of instruments from guitar to piano. She is absolutely nonstop energy from start to finish.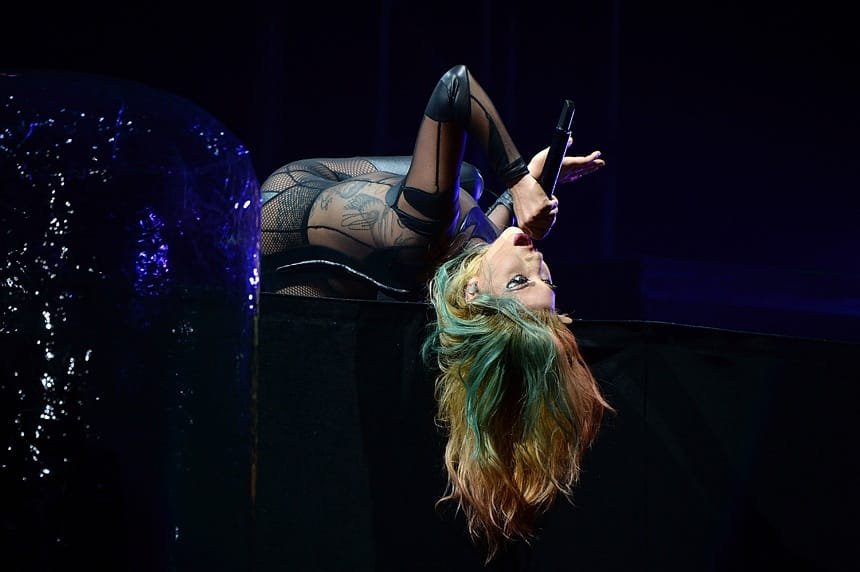 As Gaga and her dancers changed into their many different costumes a video panel in front of her band was raised and lowered with changing video images. There was never really a pause in the night even when she was not singing. It was exciting and vibrant.
The song "Angel Down" was dedicated to the victims of the San Antonio shooting. It was touching, timely and sadly relevant in this year of tragedies.
One of the tour bus drivers we spoke with said the entourage includes 29 semi's and 12 buses. That's a major movement of talent, machinery and lighting. It is obvious though when you see the elaborate stage and props come to life during the show. There were lifting riser stages, trap doors and lighting stretching from the front of the area to the second stage half way back and on to the final stage at the back of the arena. Giant mushroom shaped blobs on the roof turned into walkways between stages and projected close ups of her singing. Gaga does her part to keep americans employed.
Lady Gaga dedicated "Edge of Glory" to her good friend Sonja Durham, who died in May from Breast Cancer, and to a member of her troupe whose first anniversary of her father's passing is approaching.
Gaga clearly has a love for all people and is a fiercely outspoken woman and champion of the LGBT community as well as a strong promoter for women's rights. She speaks of her love for all people and seeks to bring all genders, races, beliefs under one roof for a night of pure entertainment. Forget the differences and stand up and have a party.
Lady Gaga's real name is Stefani Joanne Angelina Germanotta. Her middle name was given her in honor of an aunt she never knew. The song "Joanne" is a tribute to that aunt as well as the tour.  She performed the song on acoustic guitar flanked by two of her band members also on guitars. A touching song tribute that was personal to her and showcased her voice and the fact that she needs no dancers and band to back her.
For some of her fans, or "Little Monsters" as she calls them, it's a life changing experience to attend her concerts and a pilgrimage to be done over and over again. As the show draws to a close letters and cards are hurled on the stage by those close enough to get theirs to land at her feet. The dancers collect the items and Gaga reaches down for one to open and read out to all. It's a long eloquent letter but she reads the entire thing. It speaks of how this one person's life was changed by years of attending her shows and friends made in the process. She asks an eager face in the audience if that was his letter, he nods. Gaga goes down in the audience and gives him a kiss and a hug before returning to the stage. She's a class act.
Gaga strolled the length of the bridges to go from stage to stage out to her grand piano for encore song "Million Reasons."
This was the most elaborate concert I've seen. When she is 45 and touring sure maybe it will be a toned down version of this, but make no mistake she has the voice and star quality to carry her for many decades. But, for now I am glad she puts on the show all will remember. This afterall is what Lady Gaga is known for, her over the top shows and dancers bouncing across the stage with her in perfectly choreographed unison.
A show everyone should see at least once.
Review by Donna Erichsen
Photos courtesy of Getty Images for Live Nation/Kevin Mazur
Set List
Diamond Heart
A-Yo
Poker Face
Perfect Illusion
John Wayne
Scheiße
Alejandro
Just Dance
Love Game
Telephone
Applause
Come to Mama
The Edge of Glory (Piano Acoustic)
Born This Way
Bloody Mary
Dancin' In Circles
Paparazzi
Ambulance
(Contains elements of "Paparazzi".)
Angel Down
Joanne (guitar acoustic)
Bad Romance
The Cure
Encore:
Million Reasons