David Crosby and Friends
Garde Arts Center
May 29, 2017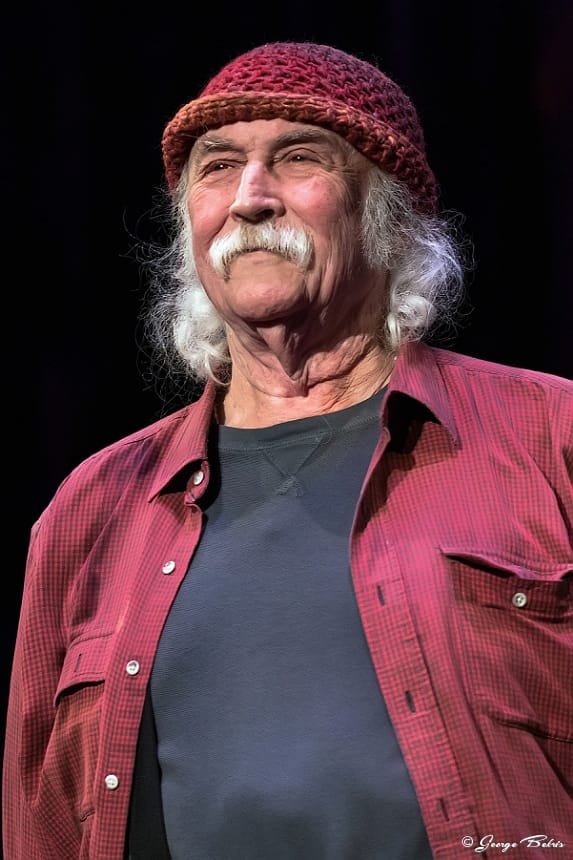 The Garde Arts Center outdid themselves with this concert. Although they have hosted many great shows, this show was spectacular.
Growing up as a child of the sixties one the voices in the soundtrack of my youth would have to be David Crosby. He and his counterparts were a representation of the era and the outspoken cry for justice and political change in America. To see him now as an adult completes a cycle of decades of changes. Changes in age, political climate, people. Crosby has accepted those changes and evolved into a still relevant voice in American music. Though the Vietnam war is long over we are still embroiled in ever present political strife as much now as ever.
Crosby, never one to shy away from his political stance still speaks for peace and love. He has an opinion on what is right and what is wrong in America and what we as American's allow to happen in our society.
This was such a memorable concert on many levels. To hear Crosby play his older tunes was one but also to hear his musical evolution brought it to another level. He has for almost the last two decades enjoyed playing with one of his sons. James Raymond, Crosby's son, is the keyboard player in the band and also co-author of many of Crosby's newer works. They have worked together since forming the band CPR (Crosby, Pevar & Raymond) with Jeff Pevar on lead guitar in 1996.
Crosby gathered together some friends to tour with him, Truly talented friends they are. As Crosby stated during the concert each band player is an accomplished musician on their own and have had their own bands. The friends are James Raymond (keyboards/vocals), Jeff Pevar (guitar/vocals), Michelle Willis (keyboards/vocals), Mai Agan (bass) and Steve DiStanislao (drums/vocals).
Starting off his career with The Byrds, then on to Crosby, Stills, Nash. Continuing with the addition of Neil Young for a time.  Crosby was inducted into the Rock And Roll Hall Of Fame and inducted twice for his works with the Byrds and CSN, and he was a founding member of both bands.
Crosby released his first solo album, If Only I Could Remember My Name, in 1971 and his solo career is still going strong to this day. This past October he released Lighthouse. His newest release "Sky Trails" was available for the concert patrons to purchase only at the venues on concert nights.
There were the obligatory Crosby, Stills and Nash songs. Along with each song though there was a short explanation of where that song belonged in his life. The reasons for writing them and where his mind was at the time and who among the greats of 60's rock he was associating with during the writing and performing of those songs.
Crosby said that all his life when he had an emotion he squashed but felt he needed to air he would air it by writing a song about it. "In My Dreams," was the opening song of the evening. Followed by a song he wrote about Jim Morrison. The Crosby, Stills & Nash song "Long Time Coming" finished up the first set and the band took a short intermission.
After the intermission they returned to the stage and went right into a CPR song "Map To Buried Treasure" They played a Crosby & Nash song "Homeward Through The Haze" and then "Angel Dream."
Jeff Benedict, prize winning author and native of New London, CT, who wrote the book "Little Pink House." "Little Pink House" is a story of one woman's fight to keep her house which was being taken by the law of eminent domain. It tells of how large corporations or governments can remove a person's right to live in a home they purchased and call home simply because it is in the way of development. The Garde Arts Center concert was important because the fight the book and film were based upon is the case that took place in New London.
The book was made into a movie and while searching for inspired music for the movie Benedict thought of asking long time friend Crosby. Crosby an opponent of taking of homes for eminent domain of course agreed and wrote the song "Home Free" Jeff Benedict invited Crosby to play at the Garde Arts Center and the song was performed live for the first time ever at this concert.
They finished up with a rousing version of the CSNY hit "Déjà vu." The encore to follow was full of patriotism and a great rendition of "My Country 'Tis Of Thee"
At 75 years young David Crosby sounded fantastic as did his friends. Their voices filled the theater with such wonderful harmonies. Crosby's vocals were so strong all we can hope for is that he continues to play for many years to come. Hopefully he will also do a encore performance at The Garde Arts Center in the near future. If he does I am sure the house will be full of eager patrons waiting to hear his beautiful music.
Set List
In My Dreams
Morrison
Tracks
She's Got To Be
At The Edge
Laughing
1000 Roads
Long Time Gone
Map To Buried Treasure
Homeward
What Are Their Names
Home Free
Angel Dream
Low Down Payment
Delta
Deja Vu
Review by Donna Erichsen
Photos by George Bekris