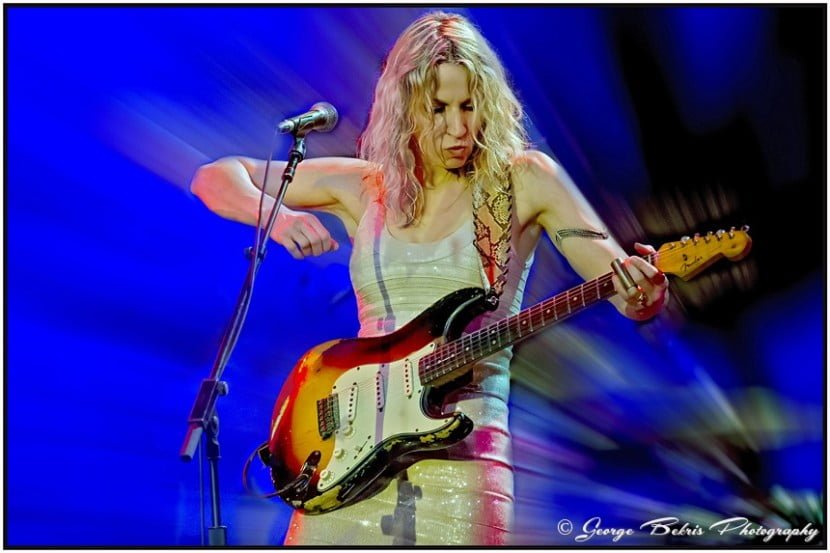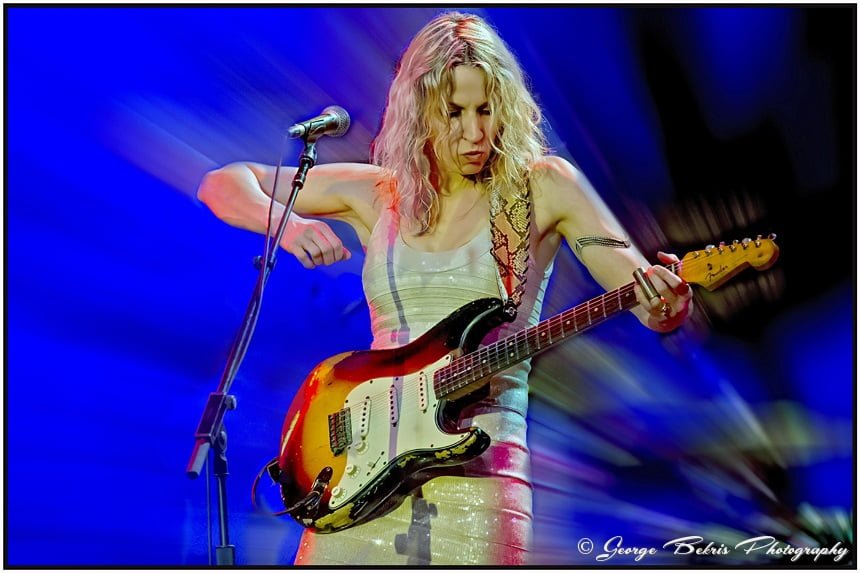 ANA Popovic
Wolf Den at Mohegan Sun – Feb. 14. 2016
By Donna Erichsen
Photos by George Bekris
Like a hot, steamy drink to take the chill off the arctic blast of cold air in New England on Valentine's Day, Ana Popovic heated up the Mohegan Sun Wolf Den with an exceptional concert. Ana Popovic and her band brought their blues, soul and jazz with a funky style sound to a packed house. Any guitar aficionados in the audience were wowed by the caliber of music we heard last night.
Ana Popovic is fast becoming legendary as one of the best blues guitarists out there. Being a four times Blues Music Awards nominee and a woman just gives her that much more credibility. She credits her sound to her influences, Jimi Hendricks and Stevie Ray Vaughan among others.
The band blasted out the title song off her "Can You Stand the Heat?" album. Then, onto to a tribute cover of Albert King's "Can't You See What You're Doing to Me?" She made her guitar sing, whine and moan with the accompaniment of Carlton Armstrong's Bass, Keyboard by Stephen Malinowski and Stéphane Avellaneda on the Drums. They played "Object of Obsession", also from the "Can You Stand the Heat?" album.
The band turned it up a notch when they played "Count Me In". Then, on to the Jimi Hendricks cover "House Burning Down". That was followed by an awesomely done drum solo by Stéphane Avellaneda as he pounded, beat and slammed his drums. He beat through one set of sticks and had to get a second set.
ANA spoke about her newest album "Trilogy" which will be released in May. The aptly named "Trilogy" is a mix of Ana's three favorite music genres which are blues, jazz and funk combined into one three album set.
Ana Popovic has also been invited back for a third time to join the Experience Hendrix Tour in March. Ana stated it was with great pride that she again takes her place as one the few women chosen to join this mostly male dominated tour. She then tore it up on her version of Hendrix's "Crosstown Traffic".
The night ended with a second standing ovation for Ana Popovic and the band for giving the audience a fiery night.Bassist Carlton Armstrong, said "She doesn't need a band" as Ana finished wailing on the last song.
It was great they played on Valentine's Day because Ana Popovic captured the hearts of the audience with her energy packed show at The Wolf Den. If you haven't seen her performance yet, you really should put it on the top of your list.