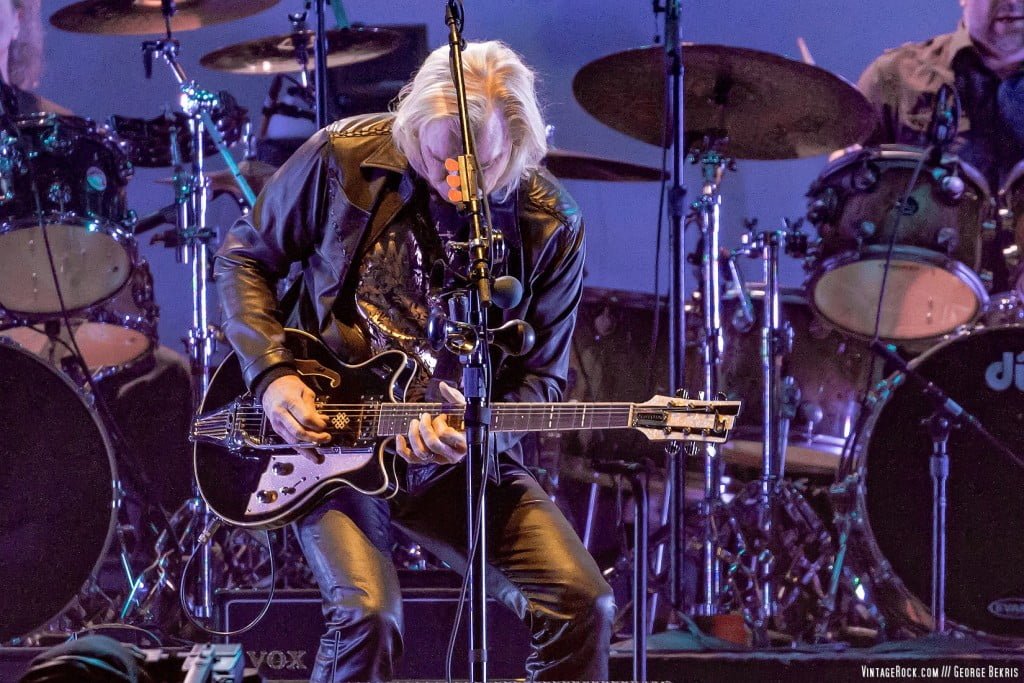 Joe Walsh
Mohegan Sun Arena
Oct.16,2015
Joe Walsh has a reputation of putting on a consistently enjoyable concert and this was no exception. On October 16th at the Mohegan Sun Arena he treated the audience to a great show. The 67 year old is not only former member of the James Gang and Eagles, Walsh also has a number of songs written and performed in his long running solo career. This concert was a sampling of his many great and enduring songs. The only drawback is that he has so many songs in his bag of tricks there is no way we could hear them all in one concert.
Walsh was joined by one of his Barnstorm keyboardists and drummer Joe Vitale. He was also accompained by Gannin Arnold on guitar, Larry Young on bass, Jason Freeze on keyboards and ssaxaphone, Clayton James on synthisizer keyboards and Drew Hester on drums. Melanie Taylor, Windy Wagner and Connie Jackson rounded out the band with their back-up vocals.
Walsh sang "Walk Away", "The Bomber" and a whimsical take on "Funk #49" with a midsong inclusion of lines from "Funk #50" off his solo album "Analog Man", all sounded great. Along with "Turn To Stone" from his first solo album "Barnstorm" in 1974 he had the audience entranced in the moment. He used various guitars through out the show, so the sounds were consistently changing .
The encore started with I.L.B.T's "I Like Big Tits", a Breast Cancer awareness song, which was a hit with the crowd. Joe brought up the importance of this topic with the fact that his wife is a Breast Cancer survivor. He brought the message home in a positive way. Walsh then finished with " Rocky Mountain Way", always a favorite.
All in all a great concert and Joe Walsh never fails to put on a fun show. We'll be seeing him next time as well.
Review by Donna Erichsen
Photos by George Bekris
Set List
Walk Away
A Life of Illusion
Over and Over
Analog Man
In the City
Pretty Maids All in a Row
Mother Says
Turn to Stone
The Bomber: Closet Queen/Bolero/Cast Your Fate to the Wind
Funk #49
Life's Been Good
Encore:
I.L.B.T.s (for breast cancer awareness month)
Rocky Mountain Way